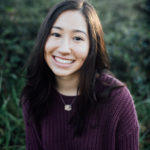 Rebecca Wolfson
Class of 2022
Brown University
Rebecca Wolfson's AAA Essay:
"The most intriguing stories have characters who face challenges," I instruct my Writopia students, relaying wisdom and experience gained from writing the stories dancing through my head.
"I'm stuck. I don't know what to say about Ally," eight-year-old Madeleine proclaims.
It's another summer morning at Writopia Lab, a creative writing focused non-profit where I volunteered.
"Can you give me an example?" Madeleine asks.
"Let's use Becky from Ms. Wasian. Becky's story begins with her grandparents who immigrated to the U.S. from South Korea. Through Becky's everyday interactions with her grandparents, readers learn of how they wistfully remember being well-respected college graduates in Korea to becoming 'others' in America. However, they remained resilient. Working as waiters in a language they couldn't comprehend, they studied laminated menus at home, practiced pronunciation while doing the dishes. Because of them, Becky's character is strengthened by the experiences she saw her family members endured. Becky memorialized these experiences in a prize-winning essay. Let's read an excerpt."
As my Halmoni and I sit in Coastal Flats, we watch the purple plastic fish hanging from the ceiling. Her whole life, my Halmoni has been a fish swimming upstream. Late nights studying laminated menus have now resurfaced from her slowly fading memory.
On July 4, 1971, my Halmoni and Haraboji emigrated from Seoul to Los Angeles, leaving behind my ten-month-old mother in Korea. A month later, they moved to Philadelphia. Poor, yet thrifty, they rented one room in a widower's house for $40 a month. The very next day, they began seeking employment. My Halmoni was hired as a waitress at Casa Conti, an Italian restaurant. To get the job, she conducted an interview entirely in broken English with the owner. She reveals to me, "I said that I had limited experience waitressing in Los Angeles, but that I was a quick learner." "Well, did you have any experience?" I ask. She looks at me deviously and just laughs.
The defining moment that highlights her dedicated character is the way she went about 'studying' waitressing. With very little English comprehension, she knew it would be nearly impossible to understand the orders. With her boss's blessing, she took home a set of menus, which she studied every night. She looked up each word in the dictionary and practiced the pronunciation over and over. After 10 months of waitressing at Casa Conti, she was promoted to serve at banquets. "New menu, but more tips," she reminisces.
A devout Christian, she sends in her weekly Sunday blessing "Hallelujah! Proverbs 24:16–for though the righteous fall seven times, they rise again." She writes, "When [Haraboji] and I immigrated, we were fearless and resilient. We fell many times, too many to count, yet we rose again. We never thought of staying down defeated."
"Wow. Becky loves and respects her grandparents," Madeleine gushes.
"She sure does."
As Becky grows, she begins to recognize that being literate is a privilege. She knows knowledge is measured in language: the syntax, the quality, the depth. A character is formed by what they are in labels: brown or pink hair, short or tall, loud or quiet. Becky's labels are murky: like her grandparents, she is an 'other'.
"What is an 'other'?" Madeleine asks.
"Someone who is uncategorized, floating down a river between the jarring lines that society sets. Becky was made to feel this way because on every government form, document, and school record, Becky had to pick her race. But, Becky is more than one race, she is Korean and she is European. Unable to choose two boxes, Becky became quite literally an 'other'."
Becky, like her grandparents, was fueled by a desire to understand how the system worked. For her school newspaper, she decided to write a story about demographic-based questions on standardized testing forms. Empowered, she interviewed the CollegeBoard. She may bear the label of 'other,' but she also exemplifies the 'writer' label. As a writer, she has the power to question the status quo and the unspoken right to receive an answer.
"What if I made Ally a writer because I want her to be as curious as Becky?" she asks.
"I love that idea. Remember that not only does Ally need to be a strong character, but Ally's story needs to have a climax to teach readers a lesson," I tell her.
"So, in Becky's story…" she begins.
"At sixteen, she participated in a writing program across the world teaching literacy at an orphanage. There, she used her language skills to connect with the children. Every day, she woke up early to plan literary scavenger hunts and writing activities, even publishing two children's books during her trip. Traveling across the world also helped Becky grow in unexpected ways. When the airport lost her suitcase on the way to the orphanage, Becky had one shirt to wear. But Becky didn't mind since this also meant she had only one shirt to wash."
"EW!" Madeleine exclaims. "What's Becky like now? Is she still smelly?"
"Well, Becky's the same. But she's different. Experiences change people – and Becky is no exception. After her trip, she began to challenge herself even more. She explored her passion for English and was elected as President of the National English Honors Society. She finished a manuscript and signed a publishing contract to write her own book, Views From the Backseat, and started a reading program to develop literacy in her community. And, as a character, Becky will continue to grow. At Brown University, she'll be a newspaper writer who'll push boundaries and ask tough questions. She'll volunteer near and far to focus on increasing literacy. She'll put her heart and soul into everything she does."
"Wow, Becky sounds like she'll do great at Brown," Madeleine concludes.