Our History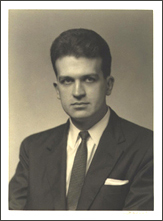 The William Orr Dingwall Foundation was established in 1994 by Dr. William Orr Dingwall, a professor at the University of Maryland and a widely-published scholar and researcher in the area of the effects of brain physiology on speech and language. Originally based in San Francisco, California, the Foundation's operations moved to the Washington, D.C. metropolitan area after the death of Dr. Dingwall in January of 2004.
Dr. Dingwall was born in Washington, DC, in 1934. Although his undergraduate education included international studies in preparation for a career in the Foreign Service, his interest in languages led him to pursue graduate studies in Linguistics at Georgetown University, where he received his doctoral degree. After an initial academic appointment in the Department of Linguistics at Simon Frasier University, in British Columbia, Canada, Dr. Dingwall returned to Maryland to become a faculty member at the University of Maryland, College Park, where he carried out research in linguistics. In 1965 he established the Linguistics Program, where his interests expanded to studies of language and the brain. In 1978 his Neurolinguistics group joined the Department of Hearing and Speech Sciences at the University of Maryland College Park. There he continued his research and teaching in the area of Brain and Language until his retirement from the University in 1996. During his long career, he was the author of many scientific articles and mentored many students.
In addition to his scientific studies, Professor Dingwall was a man of eclectic interests who had a great appreciation of art and history. He read widely and amassed a large and unique book collection, part of which was donated to the University of Maryland Libraries when he retired. In addition to his scholarly interests, he was a gifted pianist and had wide-ranging interests in music.
Though he enjoyed many privileges in his life, Dr. Dingwall cared very much for the welfare of new immigrants to the United States. In particular, he helped those who wanted to pursue higher education, especially in the field of brain and language. The Foundation that he created has supported many immigrant students in their pursuit of undergraduate and post-graduate degrees in a variety of fields. Their professional success will be a lasting testimony to his love of language and the mind, as well as his vision for a new and diverse generation of scholars.